True3D Digits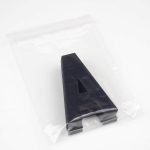 Here's our True3D Digits, perfect for adding a new dimension to your printed number plates. Creating a bespoke or custom plate which is much sought after by car enthusiasts. And is both MOT and road legal, subject to its correct use.
Each digit is made using our Charles Wright font and sized for standard oblong plates. And comes with a high tack adhesive, compatible with our specific Reflective & 3-Part Plate constructions. All you need to do is make your plate as normal, then apply our digits on top.
Note: To ensure you make certified number plates, only mount them onto a Tennants Number Plate. Only then, can we guarantee it's road legal and standards compliant.