True 3D Digits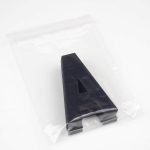 Here you'll find our True 3D Digits for oblong number plates. To ensure you only make certified legal number plates, only mount them onto a Tennants UK Plate.
Each one is based on our number plate font & precisely matches dimensions stated by the British Standard regulations.
Note: Always ensure you follow any user instructions closely, for the best results & compliance.