3D Digits – True 3D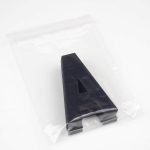 Here's our 3D Digits, perfect for adding a new dimension to your printed number plates. Create custom plates that are much sought after by customers & car enthusiasts. Yet are still MOT and road legal, subject to correct use.
All our digits are made using the Charles Wright font, so they're road-legal. And we provide 2 sizes of 64mm for motorcycles and 79mm for everything else. Moreover each digit comes with protective covers and a high-tack self adhesive. So all you need to do is make your number plate & then stick them on top.
Note: To ensure you make BSAU145e certified number plates, only mount them onto a Tennants Number Plate. Only then, can we guarantee it's road legal and standards compliant.