Laminating Roller Jig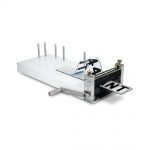 Here you'll find a replacement Laminating Roller Jig, used to combine our matched plate components. Each unit comes with pins to help with alignment and soft rubber rollers to bond the parts together.
When combining our plate components together, start with your printed sheet. And then laminate a clear acrylic face to it.