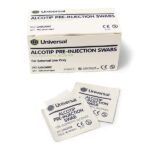 100 Alcohol Swab Wipes
100 Alcohol Swab Wipes
£3.00
£3.00
This is a pack of 100 Alcohol Swab Wipes for cleaning thermal printers, simply wipe one around your printer to remove any debris.
Description
Additional information
Description
SKU/Part No: nc105
Contents: 100 Alcohol Wipes
Fluid: Isopropyl Alcohol
For: Thermal Printhead Surfaces
Features: Non-woven Wipes
Each of these Alcohol Swab Wipes is soaked in Isopropyl Alcohol, which is ideal for cleaning thermal printers. In fact its solvent is perfect at breaking down any leftover ribbon ink and media adhesive. And its non-woven wipe, lifts up any dirt and debris without leaving any lint behind. However don't forget, dispose of these wipes carefully due to its flammable solvent.
Regular use of our Alcohol Swab Wipes will help you prevent ink smudges and blurred prints. Not to mention extending the life of your thermal printer, just by keeping it clean. Indeed, we recommend you clean every time you change your printer ribbon. And its so easy to do, simply wipe all over its surfaces and rollers to remove any build-up.
Cleaning Your Thermal Printer
Before you can clean your printer, you will first need to remove the ribbon and plate media.
Start by opening up your printer and lifting up its print unit. Now lift your ribbon off the print unit and put it aside. Next lift up the sensor arm and take your plate media out of the printer. Now that is done, you are ready to start cleaning.
Start with the printhead first, use a cleaning pen or wipe all over its surfaces. But don't forget to wipe your ribbon rollers. Simply use your fingers to rotate it and wipe each bit until it's clean. After the printhead, move on to the platen and the media guides next.
Finish off by cleaning the sensor and any surfaces that come into contact with your plate media. Once you are finished, replace your printer ribbon, sensor arm and plate media.
Additional information
| | |
| --- | --- |
| Consumables | Alcohol Wipes |
| Product Brand | Universal |