White 50 Panel Oblong Roll
£70.00
This White 50 Panel Oblong Roll makes Reflective Number Plates, print and laminate a panel underneath a clear acrylic face.
Description
Additional information
Description
SKU/Part No: nrd001wr50
Panel Size: Oblong 520x111mm
Quantity: 50 Dry Reflective Panels
Colour: White
Wet Faced: No Adhesive
Printable: Yes
Reflective Plates: Laminate to Oblong Clear Acrylic.
Each White 50 Panel Oblong Roll features dry reflective that's UV stable and fade resistant. It's also coated with a finish that provides superior bonding when its printed. And it comes perforated, to save you time and aid easy assembly.
This small reflective roll is designed for use inside the CL-S621 Printers used by our Prime Series. Of course, a 50 panel roll fits perfectly inside the compact printer. But you should mount any larger rolls onto the external roll holder.
Reflective Number Plates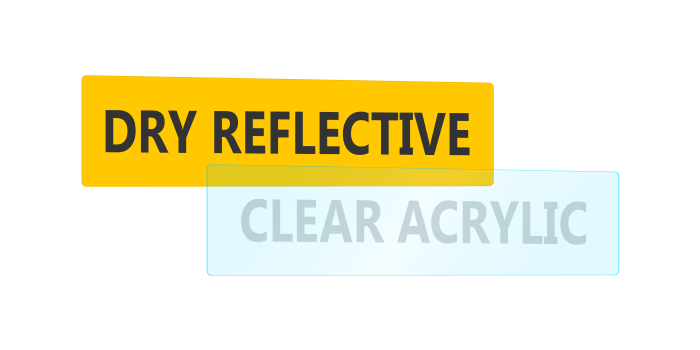 You make standards compliant number plates by printing onto a reflective panel, then laminating it underneath an acrylic face.
For more information on standards and regulations, check out our main site and the number plates pages or knowledge base.
Combining Components
Make a number plate using our 3 step process.
1: Design 2: Print 3: Assemble
Build it in our software, then print it out and simply assemble the matched components together.
Assemble with a Jig & Roller
Whenever you make a printed number plate, we recommend using a jig and roller for a professional finish.
Reflective Plates
Use the pins and place your Reflective panel on the jig, printed face upwards.
Fold back a few centimetres of the adhesive cover on an Acrylic face.
Line up the Acrylic on top, Adhesive facing down towards the reflective.
Carefully join the components together at the Exposed adhesive, ensure the edges match.
Slide both parts towards the rollers, Joined edge nearest.
Take and keep Hold of the folded adhesive cover.
Slowly Wind the arm so the components are fed through the roller.
The adhesive cover should be Removed while the roller bonds the parts together.
Finally, remove the protective Cover from the Acrylic and trim any excess off the Reflective.
Additional information
| | |
| --- | --- |
| Dimensions | 26000 × 111 × 0.4 mm |
| Media Type | Dry Reflective, Reflective Roll |